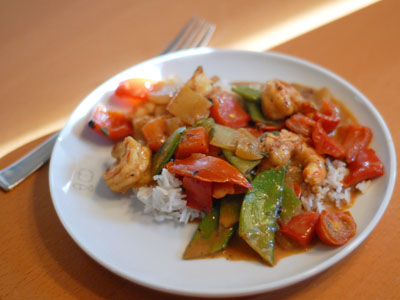 We are getting real close to the end of March! But happily, I've been quite good about working my way through Moosewood's Simple Suppers and we've done 5/8 recipes from the book so far (though I haven't posted one of them). This weekend and next week I'll wrap up the rest and then it's on to the Thai Street Food cookbook.
Tuesday night, we made the tasty little curry pictured above. Like everything from this book, it went together very fast. I didn't think to time this one, but I would bet it was on the table in under 30 minutes. Our rice cooker actually took longer to cook the rice than I did to make the curry. These recipes have all been very doable on a weeknight, which I love. Love. LOVE.
Shrimp Curry with Snow Peas
adapted from Moosewood Simple Suppers
1 lb shrimp, peeled and deveined
5 oz snow peas, cut in half diagonally
1 lg onion, sliced thin (I dice mine as I detest stringy things in my stirfrys)
2 C chopped tomatoes
2 red bell peppers chopped into bite sized pieces
1 T oil
2 T curry powder
14 oz can coconut milk (look for lite – taste is good and way healthier)
juice of one lime
1/4 C chopped thai basil, sweet basil or cilantro
1/2 t salt
Heat oil over medium high heat in a large skillet. Add onion and peppers and cook about 5 minutes or until they start to soften and the onions turn translucent. Add the shrimp and curry powder and stir well to prevent sticking. Add the snow peas and tomatoes and cook for a few minutes until the shrimp have started to turn pink. Add the coconut milk, lime juice, salt and chopped basil and bring to a simmer. Turn shrimp to cook to even pinkness. Season with additional salt and pepper to taste.
Serve over rice or maybe noodles.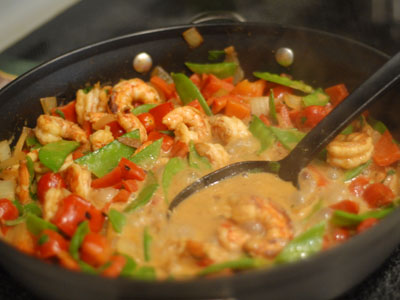 I loved the way this looked and smelled while it was cooking. Such vibrant colors! When we first served it, it seemed a bit bland, but just a hint more salt really brought out all the flavors and Matt and I both enjoyed it a lot. The kids? Not quite as much … they chowed down on the shrimp and snow peas and liked the sauce, but they were a bit suspicious of the peppers and onions. Tabby is convinced that pepper=hot right now. OY.