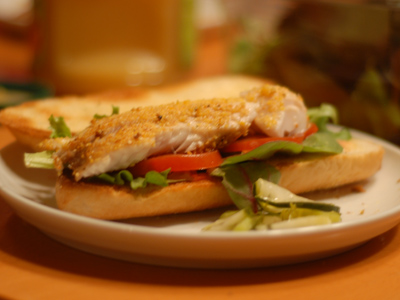 We have been having a great time trying out the recipes from Moosewood Simple Suppers. This one was one I probably wouldn't have tried on my own, but a friend from work who I first pointed towards Moosewood cookbooks, tried this one out and was raving, so I gave it a go. It was like so many things Moosewood. Simple, but so so tasty.
Po' Boy Sandwiches
4-6 filets of firm white fish (we used tilapia)
1/4 C corn meal
1 T butter or olive oil
1 tsp old bay or other seafood seasoning
4-6 rolls
mayo and ketchup or tartar sauce
lettuce and tomatoes
thinly sliced onions
Directions
Mix together the cornmeal and seasoning. Pat dry the fish fillets and dredge them in the cornmeal mixture. Heat the butter or olive oil over medium high heat in a large skillet. Place the fish in the skillet in a single layer and cook for about three minutes per side flipping only once, until cooked through and flaking when piereced with a fork.
Serve the fish on the rolls spread with tartar sauce or a mixture of mayo and ketchup. Garnish with lettuce, tomatoes and onions. We had our homemade pickles on the side and these would be great with some potato chips or something similar.
Everyone in the family loved this, though only Matt and I ate these as sandwiches. The kids just dug into the fillets and the two extra I'd made for leftovers wound up in happy little bellies.