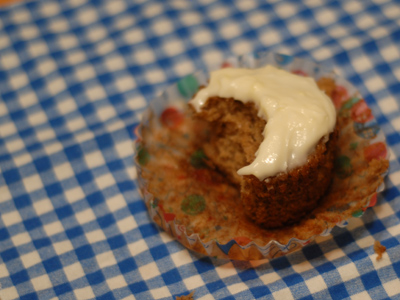 For Tabby's birthday dessert she wanted Dirt Dessert. With all of the processed this and that, it is not something I would normally condone, but what the heck? You only turn five once, so that is what we made. But she also got to bring a treat to school to share with her friends during snack time, so I gently steered her toward a couple of dessert choices from Moosewood Simple suppers. Of the options available, she chose Banana Cupcakes. That broke my heart. Err … not.
These cupcakes are some of the best I've ever had. They are quite a bit like banana bread and very moist. They would be excellent without the frosting, but we added just a touch for presentation's sake and it didn't detract either. The kids in Tabby's class were raving fans as well, I'm told.
Banana Cupcakes with Cream Cheese Frosting
3-4 mashed ripe bananas … go with 4 if the bananas are on the small side
3 eggs
1/4 C plain yogurt
1/2 C olive oil or vegetable oil
1 1/3 C brown sugar
1 t vanilla
1 1/2 C unbleached flour
1 t baking soda
1/2 t salt
For Cream cheese frosting:
8 oz cream cheese at room temp
2 oz butter at room temp
1 C powdered sugar
Directions
Heat oven to 350. Line two 12-cup standard muffin tins with papers. In a large bowl or the bowl of a stand mixer, place the bananas and mix on medium to mash the bananas. Add the remainder of the wet ingredients: eggs, oil, vanilla and brown sugar and mix thoroughly. In a separate bowl, whisk together flour, salt and baking soda. Add the dry ingredients to wet and mix.
Fill cups 3/4 full with batter and bake for 20-25 minutes or until a toothpick or fork inserted in the middle comes clean. Cool cupcakes thoroughly on wire racks. While cupcakes cool, make frosting. Beat together butter and cream cheese in using a mixer. Add the powdered sugar a bit at a time until well combined. Frost cupcakes and enjoy!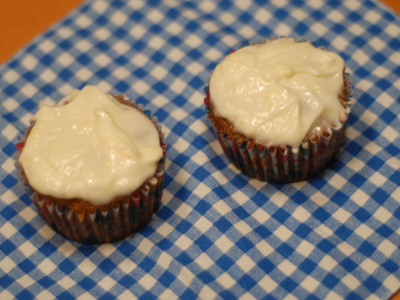 The original recipe calls for a tablespoon of cocoa or 2 tablespoons of coffee be put in the frosting, but this sounded more appealing to me this-go around. I would love to try the chocolate though (I don't do coffee).