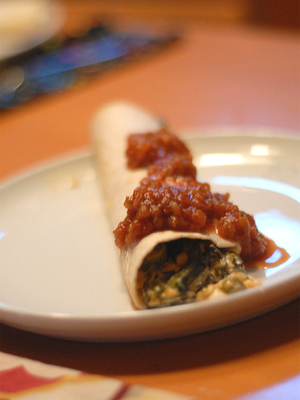 So I'm already three recipes into the March cookbook, Moosewood's Simple Suppers and as expected, I'm finding it delightful. Moosewood, for the uninitiated is a fairly famous co-op restaurant in Ithaca, NY. Basically a group of hippies came together to make awesome, tasty, whole food that is frequently vegetarian, though they do use fish here and there. The restaurant pioneered a lot of creative vegetarian cooking. Though I did not grow up vegetarian, some of our extended family is vegetarian or pescetarian and we were exposed to these recipes through them and my mom owned and sometimes cooked from the original Moosewood cookbook. When Matt and I were married, I received Moosewood New Classics from my mom's cousin and when everything I tackled from it from it turned out awesome, I bought the original (with hand-drawn illustrations) and some others. Just a few years ago my sister gave me the latest in the series, Simple Suppers. But of course I've been busy and internet recipes are distracting, so this is a prime opportunity for checking out all of the whole food goodness Moosewood has to offer.
The first recipe I tried was Spinach Cheese Burritos. This little gem went from prep (including chopping) to oven in exactly 20 minutes – I timed it. The original recipe has a hot sauce that you can make in the blender, but I am such a fan of the organic salsa we buy at Costco, that I served it with that instead. I also used low-carb tortillas because that's how we roll. This is one I dare anyone not to like. It is creamy, cheesy and delicious. The kids were a bit suspicious of the green stuff, but both ate about half their burrito which is not bad in my book!
Spinach Cheese Burritos
8-10 flour tortillas
3 cups monterey jack or cheddar cheese (pepper jack would be awesome here too), shredded
1/3 C cream cheese (3 oz)
10 oz fresh baby spinach
1 bunch scallions, chopped
1 T cooking oil
3 cloves garlic, chopped
1 tsp ground coriander
1 pinch nutmeg
salsa of your choice for serving
Directions
Heat oven to 350. Lightly oil a 9×13″ baking dish. In a large skillet over medium-high heat, cook scallions and garlic in oil for 2-3 minutes. Add in the spinach and cook until the leaves have wilted and there isn't water left in the bottom of the pan. Remove from the heat and stir in cheese and spices thoroughly, using the residual heat to melt everything together.
Place a good bit of filling on the edge of each tortilla and roll, then place in the pan seam-side down. Cover with foil and bake for about 20 minutes. Serve immediately with generous quantities of salsa.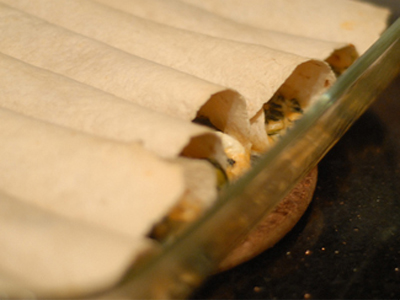 Along with this little gem, there are seven other recipes from this cookbook I'm testing out. A preview of what's (hopefully) to come:
Spinach Cheese Burritos
Banana Cupcakes (we made these for Tabby's class on Monday night – mmmmmm)
Po' Boys (had these last night – awesome!!)
Winter Squash Pie
Mexican Polenta Stuffed Peppers
Creamy Lemon Pasta
Shrimp Curry with Snow Peas
Baked Tofu