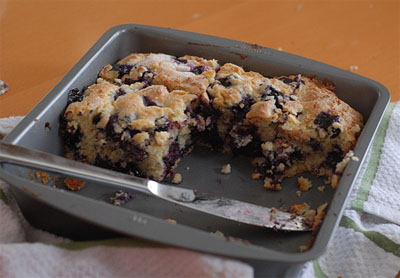 This weekend, post Zone, during the midst of our snowstorm, we had a very nice family breakfast. We don't do leisurely breakfasts very often. Weekdays the kids are at their sitters, I'm at the office and Matt … I'm not sure Matt even eats breakfast most days. But on Saturday, we had no place to be at any certain time. So while Matt shoveled the walk and the kids played outside (again), I made Blueberry Buttermilk Muffin Cake (original recipe from Alexandra's Kitchen). It came out super light and fluffy and browned on top and everyone absolutely loved it. We ate it with a side of bacon and some yogurt and of course, tea.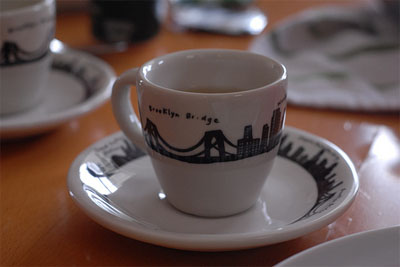 I picked up these darling little teacups for the kids at Fishs Eddy while we were in NYC. I think they're technically espresso cups or something, but they make great little people teacups. I love the charming NYC skyline pattern and they're a really fun souvenir. The size is great for the kiddos because even if they get spilled, the amount of liquid they hold is pretty small.
So we ate breakfast. We talked about our trip to NYC and Ben talked at length about what a funny movie Home Alone is and how Kevin smacks the burglars with paint cans, etc. Of course I only understood about half of what he said. That makes it all that much better.
Ingredients
½ C butter, at room temperature
2 t lemon zest or more
3/4 C + 3 T sugar
1 egg, room temperature
1 t vanilla
2 C flour
2 t baking powder
1 t coarse salt
2 C fresh blueberries
1/2 C buttermilk
Directions
Heat oven to 350. Cream together butter and all but one tablespoon sugar. Add egg, lemon zest and vanilla and mix thoroughly. Meanwhile, sift together 1 3/4 C flour, salt and baking powder together. Toss remaining 1/4 C flour with blueberries. In alternating batches, add buttermilk and flour to sugar/butter mixture. Gently fold in blueberries.
Lightly grease a 9×9 (or 8×8) square pan) and spread batter in. Sprinkle with remaining tablespoon of sugar and bake for 35 to 40 minutes.
This was wonderful warm from the oven and just as yummy cold the next day.