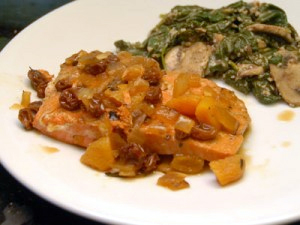 It would be an understatement to say that this was my best photographic work, or even good. Honestly, by the time I "plated" dinner last night, I was done. We spent ALL weekend sanding and polying the pieces of Ben's bed. And we're still not done. Probably not even that close. I was achey and grumpy and I didn't even really want to cook. But we had to eat, so I did. This is why I buy ingredients. I won't let them go bad and so I find myself in the kitchen even when I don't want to making dinner.
This Salmon Tagine was the second recipe we tried from Zone Meals in Minutes. I can't say it was a pretty meal. I probably could have done more with styling, but it was somewhat in the slop category as far as looks go. Luckily the taste was good. My favorite part was the cooked spinach with walnut sauce. YUM. I would have that anytime and it wasn't too hard to make (though I always blanch a bit at the thought of cleaning the food processor). The salmon was yummy, despite the fact that I overcooked it – things got hectic. But I'm not sure it was so yummy I'd feel compelled to make it again. I really LOVE our Chicken Tagine recipe. This one was a bit more meh. I was tempted to post just the spinach, but I will post the whole since it make a complete Zoned meal (4 4-block meals) with my suggestions for improvement.
The kids and Matt all liked the salmon well enough which is a pretty good endorsement since it was over-cooked. But personally, I thought the spinach was the star.
Ingredients
30 walnut halves, lightly toasted (i.e. rattle them around in a dry frying pan on med-high heat for a few minutes – watch like a hawk so they don't burn)
¼ cup apple cider vinegar
2 teaspoons dried dill
2 cloves garlic, minced or pressed
½ to 1 teaspoon hot sauce
2 teaspoons extra-virgin olive oil
1 ½ cups minced onion
2/3 cup water or chicken stock or broth
¼ cup raisins
12 whole, dried apricots, quartered
1 garlic clove, minced
½ teaspoon ground cumin
¼ teaspoon ground white pepper
1 cinnamon stick (or 1/2 tsp cinnamon)
1 teaspoon peeled, minced fresh ginger root
salt
two 1-pound bags washed, stemmed, trimmed spinach leaves
4 cups thinly sliced mushrooms
Directions
Place walnuts, vinegar, dill, garlic and hot sauce in food processor and process until smoothish. In a large fry pan, saute onions in olive oil until tender, about 5-7 minutes. Add apricots, raisins, minced garlic, ginger and spices with broth or water and then top with salmon. Bring to a low boil and simmer until salmon is done, approx 8 minutes.
Meanwhile, heat a half cup of water (or leftover broth!) in a dutch oven or stock pan. Add spinach and mushrooms and steam until tender, about 5 minutes. Drain if necessary and toss with walnut sauce.
Serve salmon fillets topped with tagine sauce, and spinach on the side.