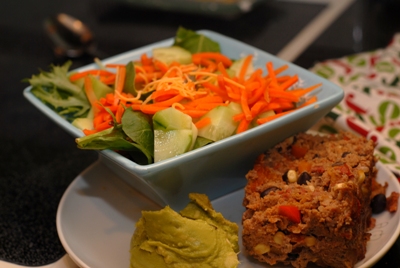 Last night we tried the first recipe from Zone Meals in Seconds. I always love it when the first recipe I try from a new cookbook is a winner and this one was a MAJOR winner. Though this is Zone specific, Matt and I both agreed that we would eat it anytime. It's your basic meatloaf, with a few interesting additions and served with a side of guacamole. Best of all, both kids loved it! Really, what's not to like?
The full zone recipe has a side salad with romaine (we used baby greens), 1/4 C low fat cheddar per person, thinly sliced celery, shredded carrots and a 1/4 cucumber. Adding the salad makes it a full 4-block Zone meal if you're interested. I added just a little salsa for dressing. I love me some salsa.
Ingredients
2 eggs
¾ cup  black beans
1 tablespoon chili powder blend
1 teaspoon ground cumin
¼ teaspoon ground red pepper (optional)
1 tablespoon tamari soy sauce (optional)
1/3 cup non-instant rolled oats, uncooked
15 ounces lean ground beef  (ground turkey works too)
2 tablespoons dried onion flakes
½ cup fresh or frozen corn
1 cup minced yellow or red bell pepper
1 cup no-salt diced tomato with jalapeño
avocado
Directions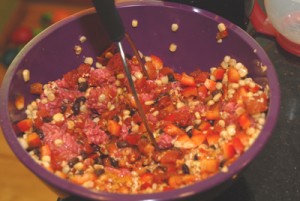 Mix and mash as you would any meatloaf. Place yummy mash in a 9×5 loaf pan. Bake at 350 for 60 to 75 minutes or until thermometer regisiters 160 for beef or 180 for poultry. Mash/chop avocado and season as desired for guacamole (we use chili powder and garlic salt). Serve slices of meatloaf with guacamole. Groan and say "oooh" a lot while eating.
We actually made this the night before and baked it about 15 minutes extra to compensate for the chillier meat temps.