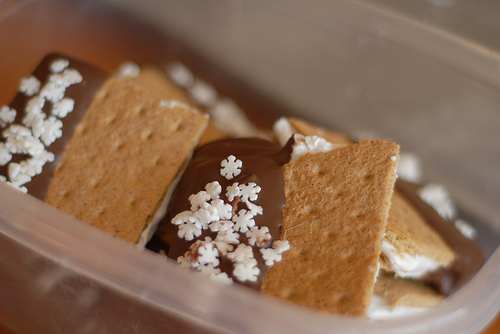 Since Tabby was born, we've been going to Zoolights every year. And as is tradition, we bring a warm beverage in our thermoses (pretty much the only time we use them) and a treat to go with them. This time, inspired by a pin on one of my boards, we made these s'more "cookies" they were super simple and turned out really cute. They were a nice change of pace from cookies and we'd make them again anytime.
Ingredients
graham crackers
marshmallows
chocolate almond bark
white sprinkles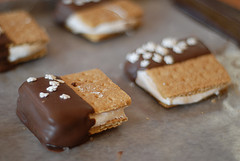 Directions
Lay out a sheet of wax paper on a cookie sheet or counter before you start. Then begin by breaking the chocolate bark into squares. In a microwavable bowl, microwave 30 seconds or 1 min at a time then stir. Repeat until melted. Then place a few squares of graham crackers on a microwaveable plate and marshmallows on top of them. Microwave for 30 sec – 1 min then top with another graham cracker. Push the crackers down to spread around the marshmallow. Some came out the sides and I found it worked best to scrape this off on the side of another plate. Then dip the sandwiches in chocolate to the desired depth and place on the wax paper. Decorate with sprinkles if desired. Allow to harden for 30 minutes or so and then store in an airtight container.