I won't lie. I'm a bit stressed at the moment. Things in our house keep breaking, including our A/C and I'm supposed to be hosting Bunco on Thursday. But I won't think about that right now … I will think about our first camping trip and how well it went.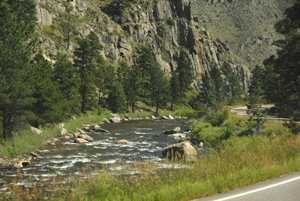 We went to the lovely Poudre Canyon, home to the Cache la Poudre River,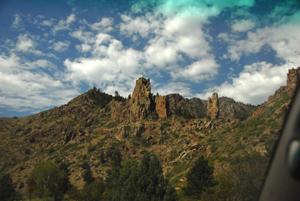 and beautiful scenic views.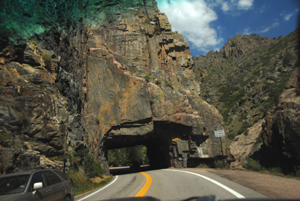 Also, a cool stone tunnel.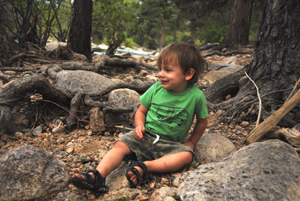 And many rock-throwing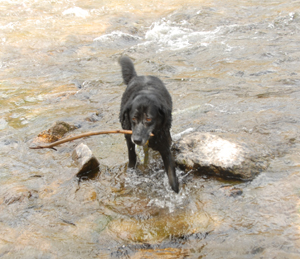 and stick chasing opportunities.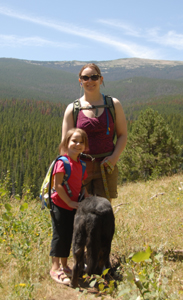 We went for a hike. It was supposed to be a very cool 2.5 mile hike to the remains of a crashed WWII vintage plane. But after 2.5 miles, there was no sign of a plane and everyone was tired and cranky. So we had lunch and turned back.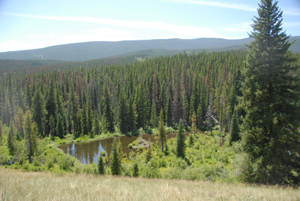 But at least there were some gorgeous views! We found out later it was actually a 5 mi/10 mi round trip hike. That SO wasn't happening.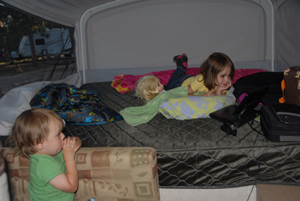 The popup was great! We slept well in the beds and enjoyed the amenities. It really wasn't all that different from regular old tent camping, but we had some conveniences like lights and a power outlet for the kids' DVD player. I'd love to be movie-free but it wasn't happening this go-around. Our sanity was at stake.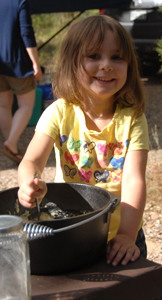 Food went well too.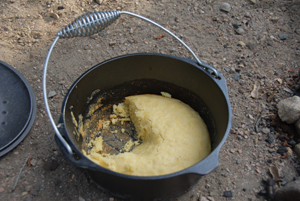 We successfully cooked cornbread in the dutch oven and had chili (pre-made) with that. We also used a new pancake recipe that was a decided success. I'm anxious to try it again at home. The kids had loads of s'mores.
Overall, excellent. It was nice being in the quiet of the woods. We camped at a place called Jack's Gulch and it was quiet despite being pretty busy. No ATVs were allowed and overall, folks were very respectful of the quiet. The campground hosts were helpful and very nice and it was good to get away from the hustle and bustle. Best of all, the family that pulled up next to us on Friday night had a little boy about 3 years old and he and our kids were fast friends. His parents were cool too and we enjoyed hanging with them. We shared a campfire Friday and Saturday nights and the kids played together a lot. We plan to meet up sometime back in the city.
We had some downs amidst all the ups too. We forgot things … Matt didn't have anything heavier than a long sleeved T and mostly that was OK since it's still August, but it did get chilly. I didn't have athletic socks and had to hike in Matt's dirty athletic socks. Also no, shovel, so Matt used a couple of sticks as giant chopsticks to move around hot coals.
We also had to learn how to wash dishes with crappy soap in minimal water. I got better as time went on, but next time we plan to collect our grey water and just use dawn. Campsuds did not cut it. But as we said all weekend, "tuition, tuition, tuition." We've learned a lot and we're anxious to go back.