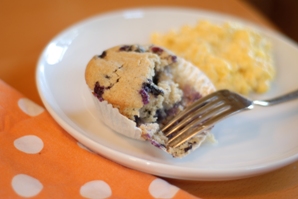 One of the simplest weeknight dinners I make is a pan of scrambled eggs. I season/flavor them with whatever's on hand: cream cheese and some dill, smoked salmon, leftover bacon, salsa, spinach and feta, ham and swiss and mushrooms. They are always a hit with the kids.
And whenever I do that I like to have some sort of lightly sweet baked good to go along with the meal. Sometimes it's two-bite cinnamon rolls from Costco or just toast with jam, but likely as not, I make homemade muffins. I have used tons of recipes, but these are my go-to muffins that are perfect for using up any fresh fruit that's getting past its prime or the tail-end of a frozen bag of fruit.
Ingredients
3/4 cup all purpose flour
3/4 cup whole wheat flour (you can do all one type if you like)
2 t baking powder
1/2 t salt
1/2 C sugar
1/3 C natural applesauce
1 egg
~ 1/3 C milk
1 T oil
1 cup chopped fruit or a bit more if you've got it
spices to compliment your fruit
Note about fruit/spices: this is a great recipe for doing your favorite or using what you have. I've done blueberries with just a little vanilla extract, blueberries with some lemon zest and peaches with cinnamon, allspice and cloves. I think these would be wonderful with apples and/or raisins and cinnamon or anything else you fancy.
Directions
Heat your oven to 400. Place liners in a muffin pan – this recipe seems to make between 10 and 15 muffins depending on how much fruit you use and how generous you are when putting batter in the muffin tins.
In a bowl, combine flour, salt, baking powder and sugar. In a 1 cup measuring cup, add the applesauce, oil and egg. Add enough milk to go to the 1 cup line and stir. Pour this into your dry ingredients along with any spices you're using and stir until combined, but do not over-mix. Carefully fold in your chopped fruit.
Pour batter into prepared muffin cups. I like to do 2/3 to 3/4 full though the original recipe calls for filling them to the top! Bake for 18-25 minutes or until just browning on top.