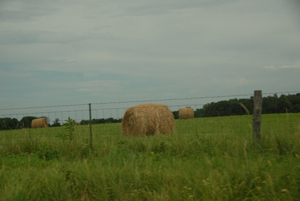 My maternal grandpa's family has family reunions every 2 years. We flip-flop between a location in the Rockies (near us) and a location in Missouri (near the other branches of family). They started when I was a baby and have been going strong for 30 years. I have been to almost all of them. My mom and a few others, every one.
This year's family reunion was on the schedule as one of our bi-weekly weekend trips. It was the last weekend in July, or so the calendar said. Friday afternoon, around 3:30, I was at home waiting for a friend of mine and her little girl to arrive for a playdate when my mom called. "I'm sick, Jess," she said. I figured she was referring to a stomach virus or something that would take her out of commission for Tabby's beloved Friday Movie Night. But then she went on.
"Reunion is THIS weekend."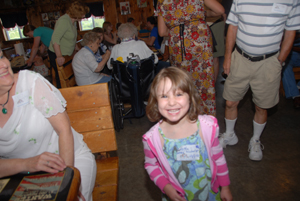 That's right … the summer of calendar mishaps and idiocy continues. We as a group had collectively gotten it into our heads that reunion was a weekend later than it actually was. Now the reunion was to be held near Warsaw, MO, about 10.5 hours from Denver, or about 2 hours from the nearest airport if you could get yourself on a plane. But of course, a quick check of flights revealed that it was both cost-prohibitive and a scheduling nightmare.
We were all really bummed. We only get to see our extended family in short spells every once in a while. It's not that we can't see them at other times but there's a pretty large contingent and so a reunion is excellent visiting value. Beyond that you hate to miss out on something that's part of the collective group's history. So we started scheming. The biggest hurdle was my grandma. She has perfect reunion attendance and we were very much looking forward to bringing her with us, but at 88 years old she has a walker and is on full-time oxygen. Between the combination of the two (well not the walker so much as the reasons for the walker) we simply couldn't figure out any way to get her to the reunion in time.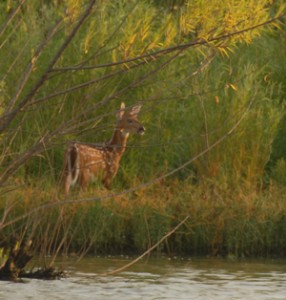 Once we came to terms with that, we assessed whether or not the rest of us should/could go. Ultimately we decided we could … and we would. So playdate over (all this transpired in phone calls and mom coming to my house in about an hour as the playdate was going on), I set the land-speed record for packing and got us ready to go in about half an hour. Trip all over I can say in all honesty that I did an excellent job. The only thing I forgot was a swim-diaper for Ben.
We met up at my mom's house and piled clown-car style into my mom's SUV, using up 6 of 7 seats. My dad was off fishing in Wyoming with a buddy and we had no way to get in touch with him and so left him fishing. We left at 6:30 pm on Friday and made it to Salina, KS and a very nice Courtyard Marriot by 2:15 AM. After a paltry 3-4 hours of sleep, we left Salina by 7 AM the next morning and made it to "Camp" by 11 AM.
Reunion was what reunion always is, organized chaos. People in the lake and pool, people in the meeting room, mixer games, awesome group meals, playing games 'til way too late, lots of fun and laughs and photo-taking. My kids got to meet their age-mates, 5th or 6th cousins (had to sketch out a partial family tree on some scratch paper to figure that out) that are the children of my age-mates. My kids slept in a queen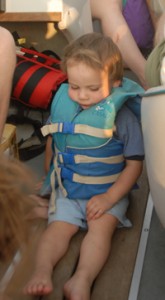 (double?) bed with my mom and Matt and I shared a twin bed. Sleep was scanty and light, but that's hardly the point.
We learned that it was definitely worth the effort. And we were very glad we went. Unfortunately, we still had to drive across Kansas once more.