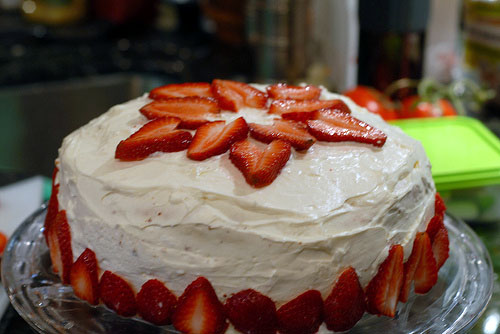 My mom had a birthday this past week and one of my small joys is to make a birthday cake for those I love. I always do it with good intent, but my cakes are never particularly… pretty. They always taste good, I will give them that, but they're not big on the looks.
I tried to give my mom a choice of cake recipes I'd been storing up to try out, but after a bunch of back and forth, we really didn't have a good answer, so in the interest of what went well with my dad's fabulous dinner (salmon, rice, asparagus, salad), I picked out this Strawberry Lemonade Cake from Baking Bites and decided to give it a whirl. At the last minute, though, I ditched the standard cream cheese frosting for some of the lovely whipped cream cheese frosting I used on the kids' birthday cakes. I was running out of time and nervous about properly frosting a layer cake with thicker frosting. Sometime I would like to make this as written, but I was extremely happy with the results. The birthday girl enjoyed it as well and my lemon-loving husband just raved.
Ingredients
for the cake:

2 1/4 cups sifted cake flour
1 1/2 cups sugar
2 tsp baking powder
1 tsp salt
6 tbsp vegetable oil
3/4 cup freshly squeezed lemon juice (I used about 5 lemons, have 6 to be safe!)
1 tbsp lemon zest
6 large egg yolks
8 large egg whites, room temperature
1/2 tsp cream of tartar
for the frosting:
2 C heavy whipping cream
8oz cream cheese at room temp
1/3 cup sugar
1 tsp vanilla extract
2 tsp lemon zest
for assembly:
2 cups strawberry preserves
sliced strawberries for decoration
Directions
Heat oven to 350F. Pam two 9-inch round cake pans and line  the bottoms with parchment paper. In a large bowl, sift together cake flour, sugar, baking powder and salt. In a small bowl, whisk together veggie oil, lemon juice, lemon zest and egg yolks until smooth. Add to flour mixture and whisk until just combined.
In another large bowl, beat egg whites at medium speed until foamy. Beat in cream of tartar, then turn the mixer up to high speed and beat to soft peaks. Fold into lemon mixture, working in 3 or 4 batches. Divide batter evenly into prepared pans. Take care not to flub this step as I did and flip one of your pans and lose about 2 cups of batter. That sucked.
Bake for 24-28 minutes, until the cake springs back when lightly pressed. Mine was sort of golden-brown on top around the edges. Cool in the pans for 15 minutes. Run a table knife all around the edges to help release then turn out onto a wire rack to cool completely.
To make the frosting, cream the cream cheese with the sugar in a stand mixer. Add the vanilla extract and lemon zest and then slowly add the whipping cream, adding more speed as it gets thicker until it's a nice, puffy creamy consistency.
To assemble, combine 1 cup of frosting with a 1/2 cup strawberry preserves. Cut both layers in half. Lay one half layer on a platter and cover with 1/2 – 3/4 cup strawberry preserves. Add another half layer and cover with the frosting/preserves mixture. Add another layer and top with more strawberry preserves. Frost top and sides with remaining frosting. Decorate with sliced strawberries as you desire.