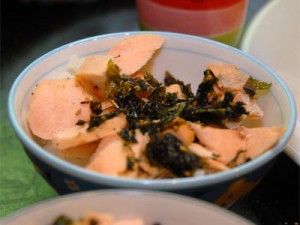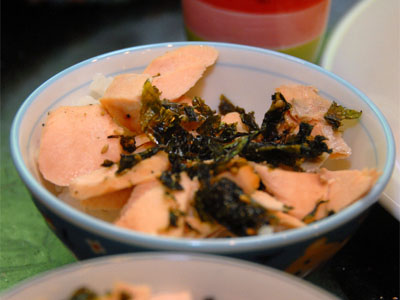 When we lived in Nashville, we frequented a little place off of Division St., right near Vanderbilt called Ken's Sushi. It's definitely not the fanciest place but it has good pretty cheap eats and my favorite Japanese entree I've ever had, Sakegohan. It's a rice bowl with seaweed and salmon and some sauce. I've never seen it anywhere else and so I have only get to have the super yummy salmon bowl when we got back to Nashville and managed to make it to Ken's.
So when I saw the salmon rice bowl idea featured on Dinner a Love Story, I was more than a little intrigued. So we tried it out – well our own version anyway – and while it isn't EXACTLY a Sakegohan, it's darn good – a keeper.
Ingredients
4-6 4 oz salmon filets, fresh or frozen
2 C sushi rice or other short grained rice
seaweed in some form (we get Korean crumbled seaweed with sesame seeds)
2 T rice wine vinegar
2 T sugar
1 T kosher salt
Directions
Heat oven to 400. If fillets are fresh, season with S&P and roast until flaky, about 10-12 minutes depending on thickness. If frozen, roast for a couple minutes before seasoning with S&P then cook until done.
Meanwhile, cook the rice as directed. This is an excellent time to pull out your rice cooker if you have one. While the rice cooks, whisk together vinegar, sugar and salt in a small bowl. When rice is done, pour over the rice and mix well.
Scoop rice into bowls and top with seaweed and crumbled salmon. ENJOY. We haven't really worked out what to serve this with. We did steamed stirfry veggies last time, but the dish is subtle enough that they felt too boring. Next time I think I'd like to try some roasted edamame or maybe a salad with some sort of soy based dressing.
Note: The marketing was key on this one as far as child consumption goes. Tabby refused to eat "SEAWEED" but "nori" was AOK.