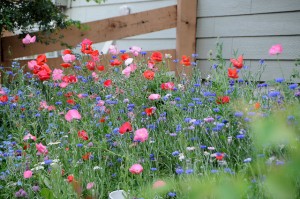 It is a beautiful afternoon here in the Mile High City. Wow. We've had a mild winter and we've hit the 70s twice this month already. I love it. If it weren't for Christmas and skiing I'm not sure I could stand winter!!
I STILL  need to get our seeds ordered and our seedlings started or we're going to be stuck buying them from the nursery again without many choices. Luckily, thanks to CO's open-minded laws on a certain little plant known as MaryJane, grow-shops abound and I can get lots of excellent indoor growing lights at competitive prices. Yay for the potheads. We're going to tack up some 2x4s on the wall in Matt's shop and mount grow-lights on a timer underneath each to sun our plants.
I am making up my menu for next week while I wait on things. I usually get around to this on the weekend, but I'm planning on having the family over for dinner tomorrow night (it's supposed to get chilly here tomorrow and I want to make lamb stew one last time this winter). I am loving Skinny Taste big time and I want to make Chicken Pot Pie Soup and Skinny Tuna Noodle Casserole from there this week. These Shrimp Po' Boys from Annie's Eats look awesome as well, but I have to find a new source from shrimp since the ones I've been getting from Target and Sunflower haven't been the best. I've got to hit Whole Foods to pick up the lamb anyhow, so maybe I'll try theirs.
We have a few plans for this weekend, including seeing The Musical Adventures of Flat Stanley at our local theatre and attending a very important birthday party for one of our favorite five-year-olds. Aside from that we must get in a long run … and of course the never ending cycle of errands and laundry. Hope it's a good one for all!