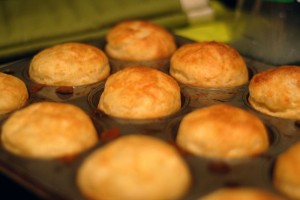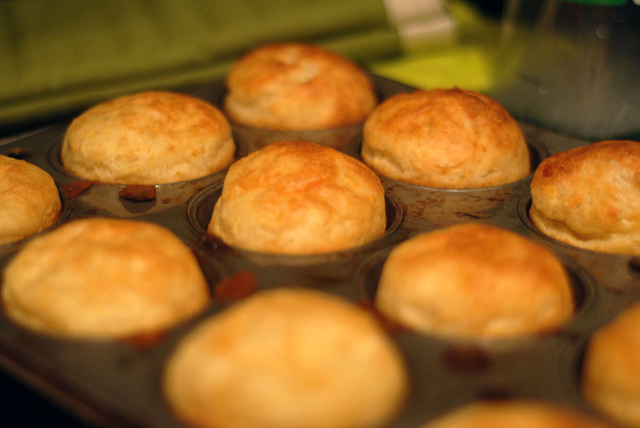 I have to say, I really love popovers. They require no leavening agent and rely, rather, on high-heat generated steam for their towering height. They have a nice, slightly custardy flavor and are incredibly easy to make.
I think this was the second time I've made popovers. It seems to me there was a go before this, perhaps while we were in Vail, but it's a bit foggy up there so I can't say for sure. I was reminded of them near the end of last week and I thought they sounded like a good thing to make with the yummy loaded potato soup we had on Friday. Every time (whether it was once or twice), they came together quickly and easily and turned out perfectly. As an added bonus, I almost always have the ingredients around. Popover connoisseurs insist that these must be baked in popover-specific pans, but I make mine in muffin tins and do not succumb to the dreaded unitasker. I am sure they taste just as good.
Ingredients
2 eggs
1 C all-purpose flour (I think it helps if you sift, but it's not strictly necessary)
1 C milk
1/2 tsp salt
Directions
[flickr size="small" float="right"]http://www.flickr.com/photos/jesser80/5484034383/[/flickr]Heat oven to 450. Grease a 12-cup muffin tin with butter or non-stick spray. Beat eggs gently in a medium-sized bowl. Whisk in remaining ingredients until just smooth. Do not over-mix. Pour batter into prepared muffin tins until they are about 2/3 full or a bit less. Bake for 20 minutes then reduce oven temp to 350 and bake another 10-20 minutes or until popovers puffed up nicely and golden brown on top. Enjoy as you see fit … I suggest butter and strawberry jam.