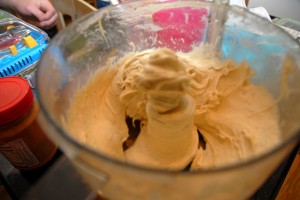 Slowly but surely we're getting it all done. I got things done for my client last night. And we even cleaned out the garage (our makeshift storage unit during the hardwood floor saga) and I was able to park my car in it last night. It makes for much nicer mornings when I don't have to scrape the ice off. Someday, and I think it might even be soon, I'll put away all of the laundry and once again be able to see the various surfaces of our master bedroom suite.
All this week we've been making the "Grocery Bag" menu from the latest Everyday Food. They provide a list, you pick up the ingredients and make the food. It all kind of works together so that you use some of what you cook on Monday for something on Thursday or you get a whole bag of greens but use them in two different recipes. It sort of forces you to try out a few recipes you might other wise forgo and we've come up with some perennial favorites by trying these out. This month's of course, features light recipes. Two of the three we've tried so far (a fish with roasted beets and broccoli and the steak and potato salad we had last night) have been very good. We also tried out the now famous one-ingredient ice cream which was really tasty! Matt also made a carrot cake after seeing one for $17 (?!!?!) at Target. It was wonderful and the leftovers were universally loved by my coworkers.
This weekend I want to spend a little time making some more time consuming food, namely: onion foccacia, lamb stew and maybe some cheese. What?? Don't look at me like that. I've been reading Animal Vegetable Miracle again and I'm all inspired. Seed catalogs coming next week.