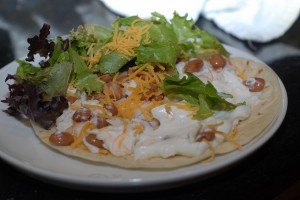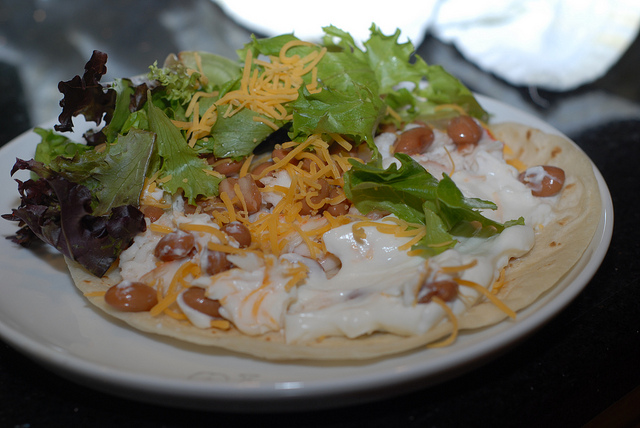 A looooong time ago, bloggy buddy Kjersten, who I got to MEET just a couple of weeks ago, wanted to know more about my fish tacos. I am happy to spill!
The fish I use in fish tacos is one of two things: either white fish from the freezer section at Target. Yes, that sounds sketchy, but it's great fish and it comes in individual fillet portions, ready to cook up as desired (I get their salmon too). The other source I use is (don't laugh) fish sticks. Fish sticks require just slightly less prep/thought and I keep a bag of them in the freezer (Target again) to have on hand. I honestly cannot say I like one more than the other … both good, just depends what you're in the mood for. The fish sticks somehow seem more like comfort food. My kids eat both and don't whine about either.

To make the white fish, I heat the oven to about 400, put the fillets on a baking tray and cook them for a couple of minutes to start the de-frosting. Spices stick better when they're not bricks.

Then we sprinkle on garlic salt and chili-lime seasoning (my mom brought that back from Mexico, but I'm told you can get it in the grocery store too, spice or Hispanic foods aisle). This is what we use, but others simply opt for salt and pepper sometimes with olive oil, which is very tasty as well.

Then I continue to broil them until they're flaky as fish should be. To assemble, we use small flour tortillas, beans, cheese, lettuce, tomatoes, avocado, sour cream, etc. etc. and a squeeze of lime. The lime is particularly important to me and to Tabby as well (go figure). … we serve Ben's in the same manner, just deconstructed a bit.