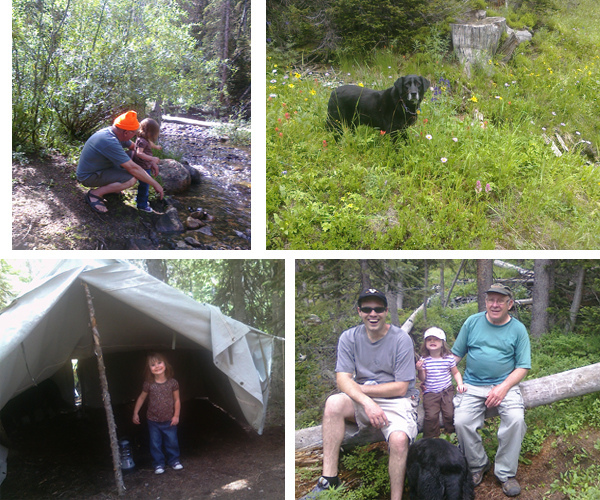 My dad is outdoorsman extraordinaire and loves to spend any and all available weekends in the great outdoors. He fishes, camps, hunts, hikes, and sleeps under the stars. Being a wonderful grandfather, he's been talking about taking Tabby (as well as Ben) camping with him for a while now. This weekend, we finally made it happen.
Dad left town on Friday and went to the Williams Fork River area to find a campsite and get things set up. He called with directions and Saturday morning, we dropped Ben off with my mom and drove up to meet Papa. He had a great little campsite setup near a river with everything we could want close at hand.
We spent the rest of the day hanging around the campsite, collecting firewood and then exploring and trying to find some fish (no such luck!). Luckily, Dad was prepared and had a salmon in the cooler which we cooked, with corn still in its husks over the campfire. We ate ravenously and finished it up with s'mores. We were clamoring for bed by the time it was good and dark. Tabby wanted to sleep in Papa's tent. Matt and I both thought she might freak out and come running for us when she saw how dark it gets up there, but she didn't and slept soundly all night.
In the morning, we had pancakes and bacon and then headed off for our hike. The hike was one of the most beautiful we went on. We hiked near a stream for much of it and there were more wildflowers than I've ever seen in my life in tons of colors. We ended at a pretty little mountain lake, not far from timberline. We hiked out and packed up camp and headed home. My mom had dinner waiting for us and indoor plumbing as well.
It was a great time. Tabby was super-excited about it and really wants to go again. S'mores, she says, were her favorite part. She also liked washing her hands in the stream. Her enjoyment was perhaps only surpassed by Loki's. He got to be a completely crazy, off-leash dog all weekend. I haven't seen him so tired in a long time. My dad put a ton of effort into the trip and made it super easy on us to basically just show up and camp.
The big bummer of the trip was the camera. I grabbed what I believed to be a fully-charged battery off the charger right as we left and stuck it in the camera. When we got to taking the first photo I realized I had no battery AT ALL. I could have screamed!! I don't know what happened … the charging light was on, but maybe the battery, about four years old, just died. Who knows. Very disappointing.
Ben had a wonderful time with Grammy and Gaga, though we missed him very much. He could have gone along, but we decided (and I think rightfully so), that it would have been a lot of "No, Ben" all weekend. So it was wonderful that my mom and sister could play with him all weekend.