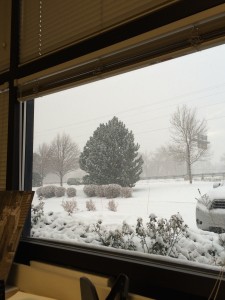 The view from my office is cold and snowy this fourth of December in the hardest year of my life so far. It wasn't a particularly fun (or horrible) drive to work and I'd much rather be skiing than marketing today.  Despite those feelings, I'm glad to see the white stuff again simply because it's putting me a wee bit in the Christmas spirit.
Since I moved back home with Matt in tow almost 10 years ago, we've spent almost every Christmas morning at my parents' house. We even slept over on Christmas Eve most of the time simply because we could. Christmas is big, important and fun and filled with traditions. And a helluva lot of that centered around my mom and the tremendous effort she put into making Christmas nice for everyone.
I think we've all been feeling that if left to our own devices, Christmas 2013 might just not happen – or we might just all jet off to Tahiti. We're not really feeling in the holiday spirit this year. But of course there are two little people who are counting on their big day being just as big and fun as it always has been. And while I don't think it will be exactly the same, I am determined to do it up right for them.
So a different plan has been hatched this year. It will be light on the presents but hopefully approaching the normal level of joy. Instead of being at Mom and Dad's we'll assemble at our house. I feel like this will be a nice send-off for the little house we've called home for the past 9 years. Christmas brunch won't be at my grandma's – she moved to assisted living earlier this year – we'll do it smaller at our house. Christmas dinner will be bigger and my dad will host … with us to help.
I'm sure I'll cry. Maybe a lot. But hopefully we can bask in the real meaning of the season – a pause to appreciate all we have and celebrate with those we love.