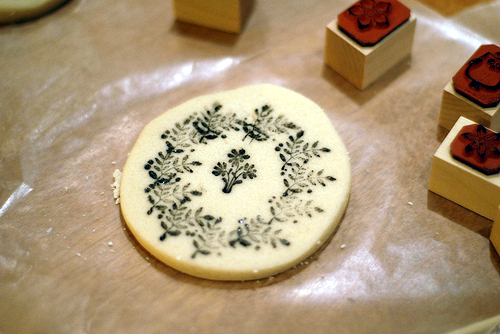 Last weekend, as part of our weekend festivities, we made salt dough ornaments with the kids. I'm sure I made them a few times as a kid, but I saw this pin on Pinterest and of course grabbed it for future reference. The pin image looked so much better than the painted messes of youth and it seemed so simple: make dough, stamp, bake. But when I delved further and actually looked at the pin link, it turns out it wasn't salt dough at all but some sort of ceramic material. That is one of the bad things about Pinterest … you only have the word of the original pinner on what it is until you follow the link and read. But that's one thing that's great about Pinterest too, ideas build off one another. And so I decided to try it anyway with the salt dough.
Salt dough is super simple to make: 1 part salt, 2 parts flour, 1 part luke warm water (our parts were cups and that yielded dough for plenty of ornaments). Mix it up, knead it into dough. Ours seemed a bit sticky, so we added a bit more flour and got it to be the right consistency. This is much like bread dough … should stick a little, but not too much.
We rolled it, cut it and used stamps to decorate. The key with the stamps is to not press too hard because of course if you do you end up with a black square instead of a pretty stamp. A nice benefit of this is that you get a shallow indentation as well as ink mark. The effect is very nice. Then we used a skewer to make holes (Tabby also used the skewer to make little dots in hers) and baked at 200 FOREVER. Seriously, they're still in my oven.
They turned out really cute and pretty similar to the original Pinterest photo. I'd love to experiment with some textures and I'd also like to have parchment on hand next time … the wax paper was eaten up by the salt in the dough and we couldn't bake on it, so getting them off the cookie sheet was a might tricky, although they're pretty strong.
Last word of advice … keep them away from your dog. Tabby found out the hard way that Loki likes the taste of salt ornaments, followed by a long visit to the toilet for some water.